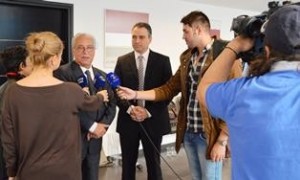 The Cyprus Minister of Health, Dr Petrides, visited the Medical School on Thursday March 6, 2014.
He met with faculty and staff and toured our high-tech anatomy and clinical skills laboratories. Answering questions by journalists, the minister praised the Medical School and added that "all evaluations made by the UK General Medical Council (GMC) to date prove the exceptional work being produced at the school". He went on to say that his Ministry will continue to support efforts so that Cyprus will become a centre for educating doctors.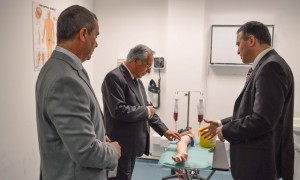 In his response, Course Director Dr Adonis Ioannides mentioned that the Medical School contributes to the development of doctors in Cyprus and to their continuous medical education. He added that having worked closely with the Ministry in order for Nicosia General Hospital to become a teaching hospital, the Medical School will help Limassol General Hospital prepare for the GMC Quality Assurance process and also become a teaching hospital.