For populations living in remote rural areas, accessing diagnostic medical services can be a challenge. This challenge is compounded further when it comes to elderly individuals who do not have means of transportation and find traveling to the city a difficult and tedious task. With this in mind, our Medical School team, set in motion the mobile clinic unit, equipped with an examination bed, blood pressure monitors, glucose and spirometry reading kits and other necessities to carry out patient examinations.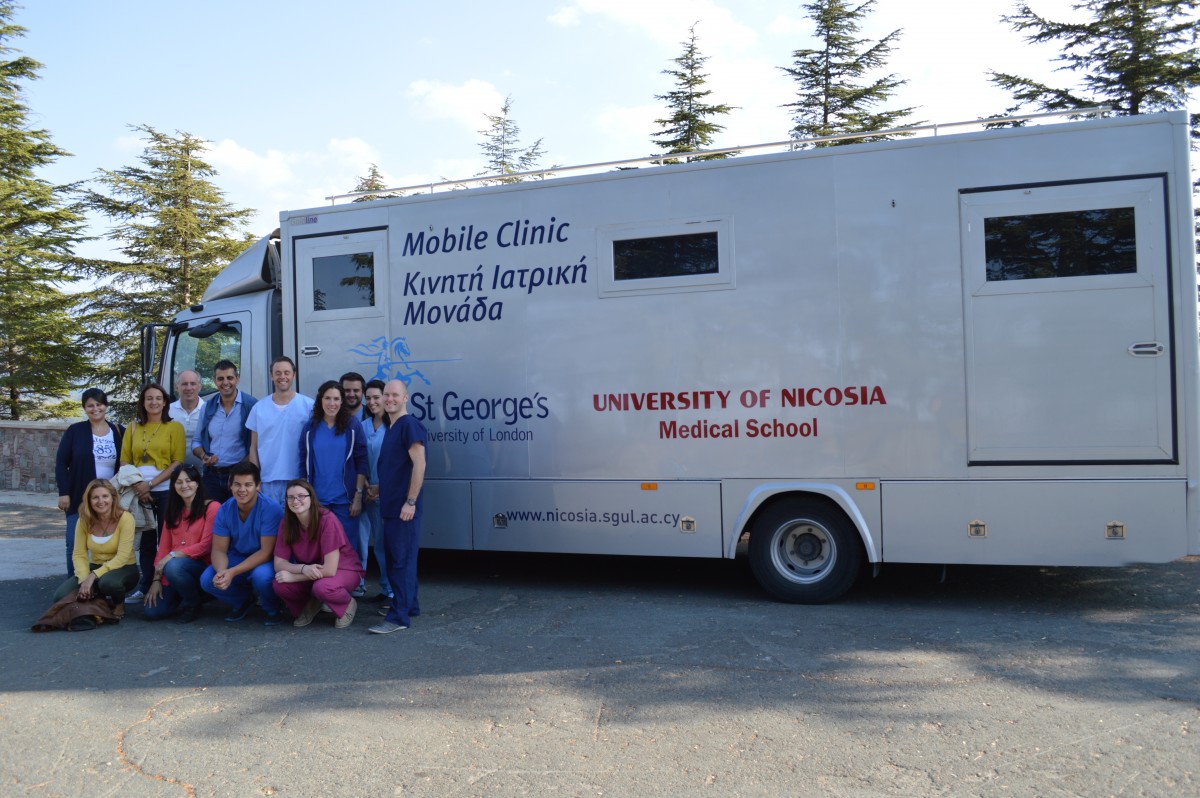 In addition to offering free diagnostic tests to residents of remote areas as well as accessing specific populations, the mobile clinic also aims to raise awareness and educate society in various health issues such as asthma, nutrition, diabetes, and more.
By participating in mobile clinic expeditions medical students' inter professional learning is also enhanced as they have the opportunity to collaborate with other health related professionals and learn from each other.  Such collaborations include programmes from  UNic's Department of Life and Health Sciences and other NGO's.   Programmes from the University of Nicosia that have participated in Mobile Clinic events include Nursing, Nutrition and Pharmacy.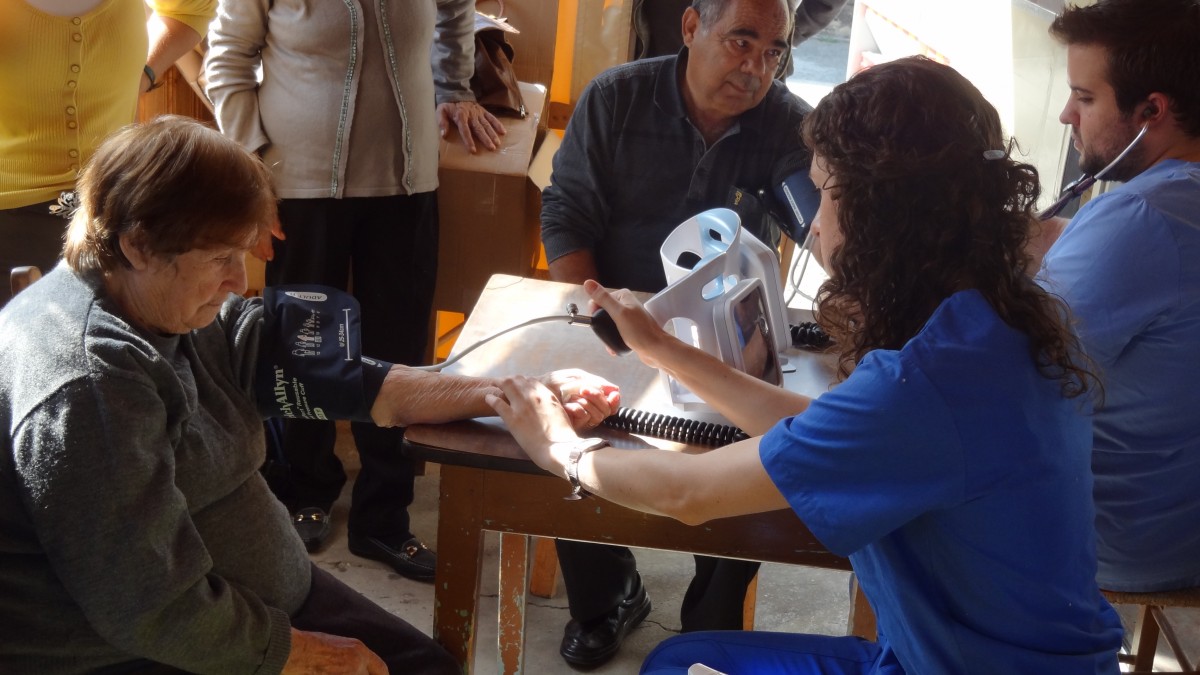 Our first event was successfully launched on November 2nd, 2013 to the remote villages of Kampos and Tsakistra in the Troodos area.  During this excursion free diagnostic services such as blood pressure, glucose and spirometry readings were offered to the elderly residents of these areas under the guidance of clinical faculty members.   Residents welcomed our presence with great enthusiasm and in order to show their appreciation they treated our team with a variety of traditional and home-baked Cypriot delicacies, leaving everyone with a sense of gratitude and a full stomach.  Some of the student volunteers share their experience in the following video
INAUGURATING MOBILE CLINIC
Another group of students who volunteered to the Inter Professional Activity in Limassol share their experiences in this VIDEO
In total, eight expeditions took place last year as shown on the table below:
Date

Target group
Location
Tests
Programme

Nov 2

2013

Senior citizens
Troodos mountains (Kampos and Tsakistra villages)
BP, Spirometry, Glucose
Community outreach

Nov 23

2013

Members of the Cyprus Association of Families with 3 children
City of Limassol
BMI, BP, Glucose, Spirometry
Inter-Professional Learning – medical, nursing and nutrition students

Dec 12 2013

General Population. Christmas Fiesta organised by the Anti-Cancer Society
City of Nicosia
BP
Community outreach

Mar 15 2014

Residents of the greater area of Palaichori village
Palaichori village
BP, glucose
Inter-Professional Learning – medical students in collaboration with the 'cosmos rheuma' team

Apr 12 2014

General Population. Spring Fiesta organised by the Anti-Cancer Society
Nicosia- old city
BP
Community outreach

May 9

2014

General Population – on the occasion of 'Asthma Week'
Mall of Cyprus, Nicosia
Spirometry
Community outreach

May 10 2014

General Population – on the occasion of 'Asthma Week'
My Mall, Limassol
Spirometry
Community outreach

May 21 2014

Asylum Seekers Centre
Kofinou
Blood pressure, BMI, glucose
Community outreach
It is expected that for this academic year the Mobile Clinic expeditions will increase as more and more NGOs request the use of our voluntary services for accessing specific populations.