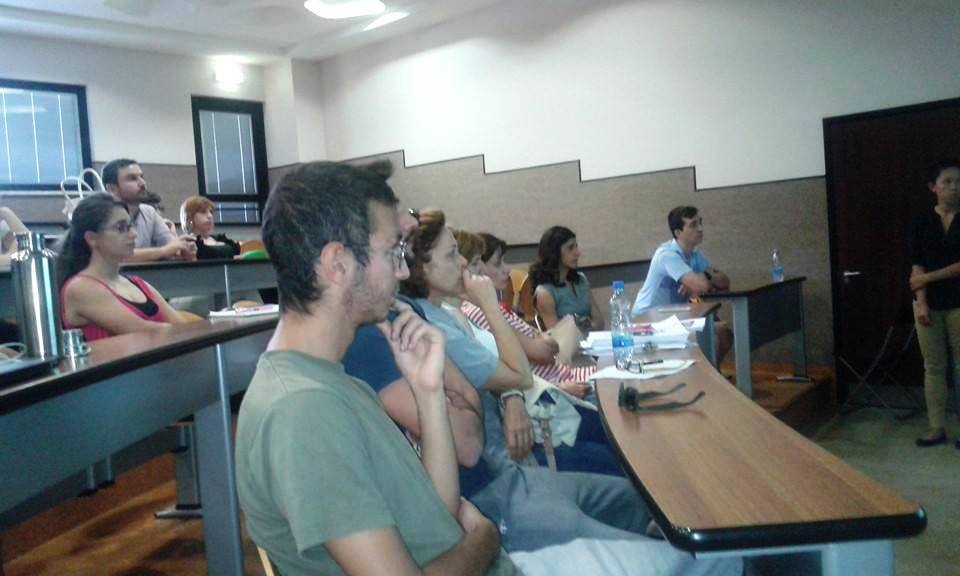 For the first time this year, the Medical School in collaboration with the Departments of Nursing, Physiotherapy, Dietetics and Psychology of the University of Nicosia launched the development of a joint Journal Club. The aim of this initiative is to enhance interprofessional learning between Medical students and students of allied health professions whilst the ultimate goal is for the students to appreciate the role of other healthcare professionals (HCP) in patient care and improve their communication and collaboration in the health care setting.
The first session took place on October 13 and T year students of the MBBS4 programme under the supervision and guidance of Dr Alexia Papageorgiou and Dr Costas Constantinou presented the results of a literature search on "The challenges of using interpreters in healthcare settings". Their main findings were divided into challenges for the patient, doctor and the interpreter. Patients reported a greater social distance between them and their healthcare professional whilst they were less likely to ask questions and mention concerns. On the other hand, HCP were concerned with non-availability of interpreters in emergency settings, and reported loss of satisfaction in patient-doctor interaction and difficulty in establishing rapport between patient and doctor when using interpreters. Furthermore HCP were concerned that using interpreters increases the length of consultation whilst they were concerned over the quality of interpretation. Finally the interpreter's main concern was the fact that clinicians want the interpreter to be a conduit but patients want the interpreter to take on the role of an advocate and guide in accessing healthcare. Interestingly, the studies also showed that HCPs were less likely to engage professional interpreter services if they lacked confidence in using these services.
Following the presentation, students and faculty from all departments engaged in a fruitful discussion and described their experience of having to use interpreters in health care settings. The main take home message of the session was that the use of interpreters in healthcare consultations is important in modern multi-cultural societies, and training on how to use them effectively should be incorporated in the curriculum of all healthcare professional studies.
The next IPL Journal club meeting will take place on Monday, December 8 at 1 pm at the Da Vinci amphitheatre. Students are highly encouraged to attend these sessions as they get an opportunity to interact and learn with students and faculty of allied healthcare departments of the University and exchange knowledge, skills and ideas on important topics that relate to patient care.
Congratulations to our T Year students Katie Christensen, Whitney Lum, Adam Shepherd, Carmen Balian. Eddie Kim and Chavi Schwab for their good work at presenting to the first IPL Journal Club meeting.